TENBA SOLSTICE 12L BACKPACK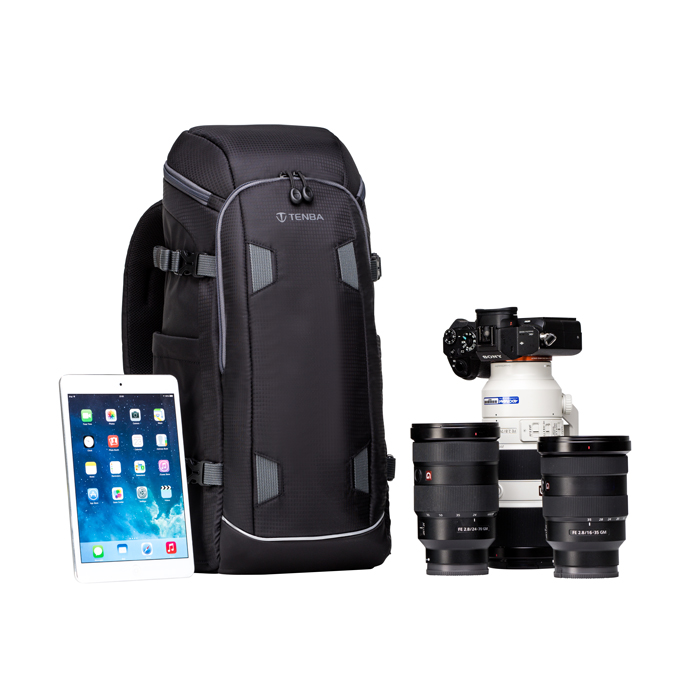 $149.95
The 12 liter backpack will fit a mirrorless or DSLR camera with 2-4 lenses (up to 70-200mm 2.8) plus an iPad Mini, with space left over for food and other personal items. It also fits the DJI Mavic and other compact drones. Extending the compression straps through the front lash points allows the bag to hold a jacket, blanket or other oversized item on the outside.
FEATURES
Rear Camera Access: Secures gear up against the user's back and enables access to equipment without fully removing the bag.
Capacity: Mirrorless or DSLR camera with 2-4 lenses (up to 70-200mm 2.8). Also fits DJI Mavic and other compact drones.
Tablet Sleeve: Fits an iPad Mini or similar sized 8-inch tablet.
Dynamic Interior Storage: Interior space allocation can be adjusted between camera and personal gear.
Tripod/Bottle Storage: Side pockets fit a tripod or a large water bottle.
Rain Cover: Added layer of protection in wet weather conditions. Removable so it can be washed when needed.
Adjustable Compression Straps: Thread straps through front lash points to carry a large jacket or other oversized items.
Durability and Weather Resistance: Built with the finest materials and hardware, including water-repellent 210D shadow ripstop and 420D plain-woven nylon, 300g brushed tricot interior, YKK® zippers and clips, and heavily-reinforced stitching.
All-Day Carrying Comfort: Waist belt and adjustable sternum strap allow for easy weight balancing, and 3D air mesh ensures comfort on hot days.
SPECS
Catalog #636-411
Weight: 2 lbs(0.9 kg)
Exterior Dimensions: 9W X 18H X 8D in. (23 X 46 X 20 cm)
Interior Dimensions: 7.5W X 17.5H X 6D in. (19 X 44 X 15 cm)
Laptop Compartment: 5.5W X 9H X 0.25D in. (14W X 23H X 1D cm)
Fits iPad Mini or similar sized tablet up to 8 inches.